Pronoun
Note:
Ikuti kelas Online Tatap mukaSenopati Center untuk lebih memahami materi ini secara mendalam, visual dan efektif (Hubungi kami untuk keterangan selengkapnya ).
Pergunakan Live Chat sebagai sarana tanya – jawab.
Summary
Pronoun adalah pengganti kata benda.
Andi and Jojo sing a song together, They are very happy (Andi dan Jojo menyanyikan sebuah lagu bersama, Mereka sangat gembira).
My Handphone is very old, i threw it yesterday (HP saya sangat kuno, saya telah membuangnya kemarin)
I can jump with my legs
That is mine
Pembagian Pronoun :
Personal Pronoun (Kata ganti Orang)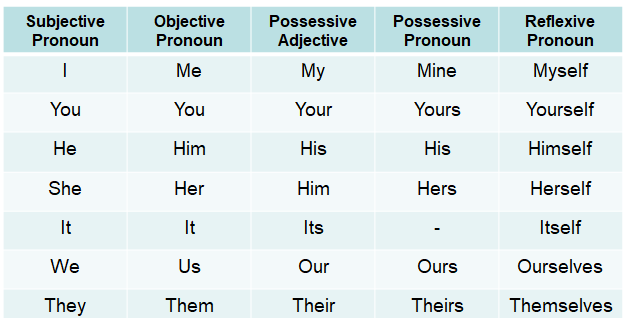 Contoh :
They will buy some foods, their foods are so delicious (Mereka akan membeli makanan, Manakan mereka lezat sekali)
I Love You, You love Me, They love Us ( Saya cinta Kamu, Kamu cinta Saya, Mereka mencintai Kita)
These apples are Theirs
I work for myself
Indefinite Pronoun (Kata ganti tak tentu)
Contoh :
somebody, someone (seseorang).
all/all of (semua).
both / both of (keduanya).
no one, no body (tidak seorangpun).
everybody, everyone (setiap orang).
every / each / each of (masing-masing).
something (sesuatu).
everything (segala sesuatu).
nothing tak satupun .
Contoh kalimat :
I think there is

someone

in front of the door.
I am bored; there is

nothing

to do

Everybody

need water to live.
All of the students are happy.
Demonstrative Pronoun (Kata ganti tunjuk)
This (ini = singular)
These (ini = plural)
That (itu = singular)
Those (itu= plural)
Contoh kalimat :
I like that one. I do not this this one!
This is a pencil  / These are pencils
That is a pencil / Those are pencils
There is dan There are
There biasanya diikuti to be = is, are, am) dan subjek
There is a

pen

in my pocket
There are some

books

on the kitchen
There are three balls in  the class
There is a new

TV

beside the chair
Bagaimana?? Jika sudah mengerti coba kerjakan di bawah ini ya  😉